CBD products are Available in store AND online
Aston Pharmacy offers Professional Grade CBD oil produced from the Ananda Professional Company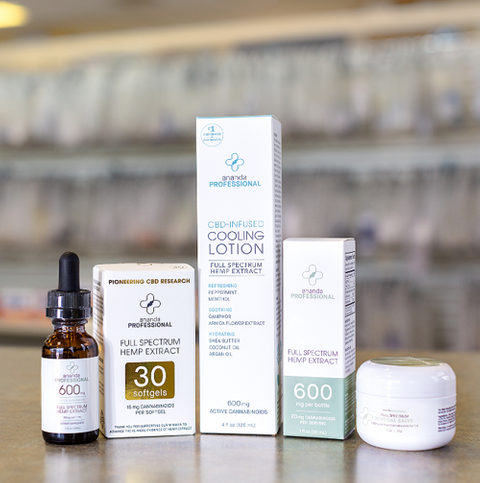 What is Professional Grade CBD Oil?
Ananda Professional is the #1 Pharmacist recommended CBD brand!
What is Professional Grade CBD Oil? This kind of CBD oil is only sold at pharmacies; it is extremely pure and rigorously tested for quality. Ananda Professional provides Certificate of Analysis (COA) for all their products. "Certificates of Analysis" for CBD are vital. Due to the CBD industry's lack of regulations, having proof of quality and safety is non-negotiable.
Third-party laboratory testing is a foundational component of any legitimate CBD operation. Sending CBD Oil specimens out to a laboratory with no vested interest in the product allows for an objective analysis of cannabinoid levels, as well as common contaminants like heavy metals, pesticides, microbials, and residual solvents.
A Certificate of Analysis (COA) is a document that shows the results of these laboratory tests. Frequently, COAs aren't easy to get your hands on - you may need to reach out to the company to buy or see it. At Ananda Hemp, we publish up-to-date COAs alongside every SKU, easily accessible on each product page." – Ananda
Copy & paste this link - https://anandaprofessional.com?refcode=AP1445 ­ to see your product's COA and to order CBD online.
How Much CBD Oil Should I Take?
Let's start by saying CBD is highly individualized and everyone will likely have a different response. When taking CBD orally, Ananda recommends to "Start low and go slow." This means that you can start with an average recommended dose of 10mg-40mg per day. Monitor your response closely. If you do not get the desired response after 2-3 days of this recommended dose, then you need to titrate up or down depending on how you feel. Typically, most people can figure out their dose in 7-10 days. However, the best way to determine your specific dose is to speak with one of our trained CBD certified pharmacist's.
Topical CBD has a target affect. Meaning it does not affect the entire body. Ananda's Roll on or salve is mostly applied to sore muscles and joints. Dosing for CBD topicals is on an as needed basis. If you have any questions please consult a CBD certified pharmacist.
Does CBD have drug interactions?
The safest way to determine if CBD is a healthy addition to your daily regimen is to have a consultation with a CBD certified pharmacist. No appointment necessary!
There are very few possible drug interactions with Annada's full spectrum CBD oil. One of the most common is a blood thinner called Warfarin. This drug is known to have many drug interactions from over-the-counter drugs such as Tylenol and some dietary supplement to prescription antibiotics. So, it's no surprise that Warfarin could have a drug interaction with CBD. However, an individual would have to take an exceedingly high about of CBD oil to achieve any drug interactions. For example, a person weighing about 110 pounds would need to ingest 1,000mg or more of CBD oil in a day to get into the possibility of having a drug interaction with CBD oil. To put this into perspective the recommended dose for an adult is 10mg-40mg per day.
CBD Pet Products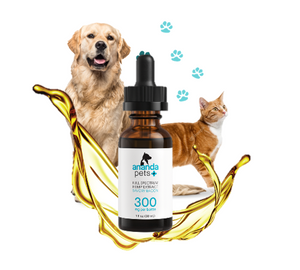 Ananda Pets tincture is a full-spectrum hemp extract created exclusively for cats and dogs. Just like us, our furry friends have an endocannabinoid system (ECS), a central regulatory system that plays an essential role in establishing and maintaining health.
CBD ignites your pets'...
more