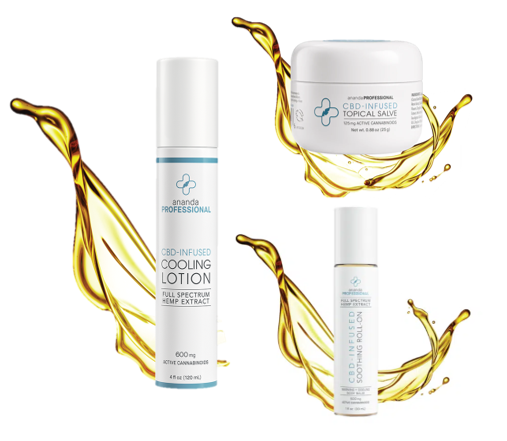 Topicals
We carry 3/4 of Ananda's topical CBD products which include:
CBD salve, CBD Roll-On, and a CBD lotion.
CBD salve - is a thoughtfully crafted blend of healing herbs, essential oils, moisturizing shea, coconut, and Ananda full spectrum hemp extract. Designed for instances where topical application is preferable, this salve contains 125mg of active cannabinoids infused in Non-GMO coconut oil, cocoa seed butter , ginger, and essential oils.
CBD Roll-On - This topical CBD comes in two strengths. 500mg, and 1000mg. The Soothing Roll-on is one of the most popular topicals. It's easy to throw in a gym bag or purse for easy on-the-go application and the rollerball applicator keeps your fingertips product-free. It's perfect if you're new to CBD or as a companion product to the tinctures and soft gels for maximum benefits.
CBD Lotion - This CBD-Infused Cooling Lotion is formulated with nutrient-rich full spectrum hemp extract and potent botanicals that work harmoniously to nourish and revitalize the skin. Experience cooling sensations and relaxing aromatherapy throughout the day with high-quality essential oils.
These Products are in stock at Aston Pharmacy. Stop in to get yours today!
Or to order online click - https://anandaprofessional.com/?refcode=AP1445