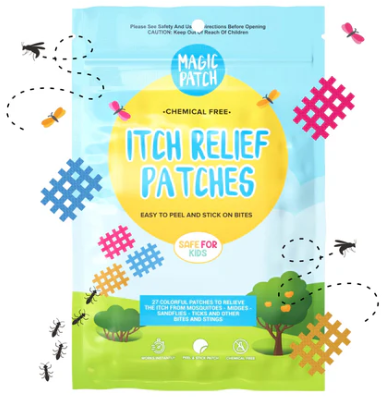 Itch Relief Patches
Itch Relief Patches a.k.a, Magic Patches instantly make the itch disappear!
How it works...
Free of chemicals, the Itch Relief Patches use grid technology to relieve the itch caused by mosquito and other insect bites. The grid shape helps mechanically adjust the skin to help your lymphatic system drain the saliva injected by insects that cause the itch response.
Each pack contains 27 colorful patches to relieve the itch from Mosquitos - Midges- Sandflies - ticks and other bites and stings.
CHEMICAL FREE
KID-FRIENDLY
INSTANTLY STOP ITCHING
EASY TO USE, PEEL AND STICK ON BITES
KEEPS YOU ITCH FREE FOR UP TO 7 DAYS
If you haven't gotten the Mosquito Repellent Stickers a.k.a, Buzz Patches, then you might be in serious need of some itch relief!
Stop in today to get instant itch relief!