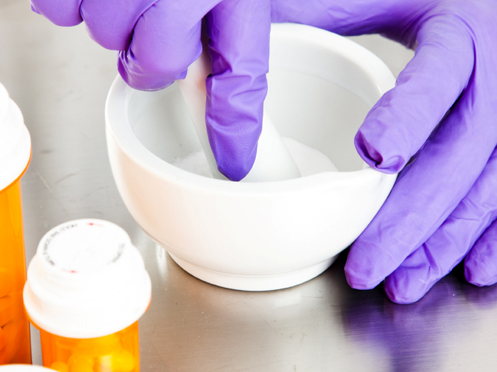 Experience better results from your medications with customized compounding based on your doctor's orders. Our specialty is topical pain creams that deliver relief to where it is needed without the side effects of pain pills.
Compounded medications are a cost-effective treatment option practitioners can offer patients when commercial drugs are not obtainable. Topical dosage forms can avoid the need for high doses of oral medications.
Aston Pharmacy Compounded Medications Procedure:
Compounds are generally ready within 1-2 business days (excluding weekends) from the time the order is received and confirmed by the patient. The order is confirmed by the patient when we receive payment/insurance information and/or cash payment.
Compounds are not usually covered by insurance; however, we will bill the Insurance before we offer a cash price.
5 Benefits to Compounding
1. Allows for access to discontinued medications.
2. Allows for alternative dosage forms.
3. Can make medication allergy friendly.
4. Makes medications easier to take if swallowing or flavor is an issue.
5. Allows for unique, customized formulas to best treat your specific needs.
Some of the formulations we do:
Anti-Infectives - Topical Arthritis / Bursitis Remedies
Circulation Therapy - Diabetic Neuropathy - Gastric Disturbances
Hair Replacement Therapy - Hormone Replacement Therapy
Pediatric Formulations - Nutritional Therapy - Topical Pain Remedies
Podiatric Preparations - Psychiatric Treatments
Seizure Disorder Preparations - Thyroid Replacement -
Veterinary Preparations