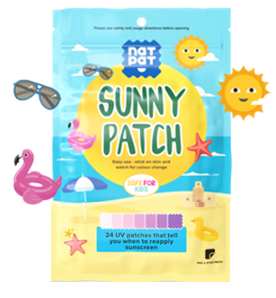 Sunny Patch
Sunny Patch is probably the coolest patch, yet!
Here's how it works...
Sunny patches are made with dermatologically safe medical adhesive, a UV-sensitive layer that reacts to sun rays and turns purple on UV exposure, and a waterproof layer on top. The stronger the exposure of UV to a Sunny Patch, the darker it gets.
Each pack contains 24 UV patches that tell you when top reapply sunscreen.
SHOWS WHEN TO REAPPLY SUNSCREEN
WATER RESISTANT
SAFE FOR KIDS, WORKS WELL WITH ALL SUNSCREEN TYPES
EASY TO USE, PEEL AND STICK DIRECTLY TO VISIBLE SKIN AREA
Don't get sunburnt this summer! Stop in, and get protected today!