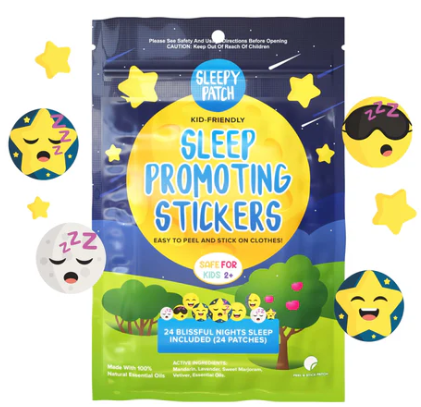 Sleep Promoting Stickers
Sleep promoting stickers a.k.a, Sleepy Patches use a specifically crafted formulation of essential oils to bring on sleep. Sleepy Patch is designed to help calm the nervous system, the mind and stimulate an overall relaxation sensation. Each pack is resealable and contains 24 colorful designs. Sealed patches last up to 6 months.
Active Ingredients: Mandarin, Lavender, Sweet Marjoram, Vetiver, Essential Oils (100% natural essential oils)
SAFE FOR KIDS 2+
EASY PEEL AND STICK ON CLOTHES, NOT SKIN
NATURALLY GET TO SLEEP FASTER
RESEALABLE BAG FOR STORING
Stop in today to help you, and your little ones fall asleep without a fuss!